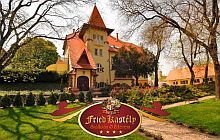 ✔️ Fried Kastélyszálló Simontornya
7081 Simontornya, Malom út 33.
Phone: 00-36-1-2279614
Hotel video
Fried Castle Hotel and Restaurant awaits the guests in Simonytornya, close to Lake Balaton, in the heart of a beautiful French park. The three buildings of the 4-star castle hotel offer three totally different atmospheres. In the Wine Cellar and the Restaurant of the castle hotel you can taste the best Hungarian wines and dishes. In the wellness-fitness centre of Fried Castle Hotel you can pamper your body and soul with different massages and wellness services.