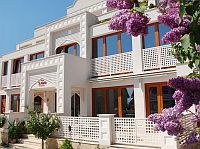 Amira wellness Hotel**** Hévíz, Hungary
8380 Hévíz, dr. Babócsay u. 43.
Phone: 00-36-1-2279614
Hotel video
Amira Boutique Hotel Heviz - Wellness and Spa is situated only 800 m from the thermal lake of Heviz, in the elegant brown-stone district of the city. The 4-star wellness hotel of Heviz, built in Moorish-Arabian style, offers its guests elegant and comfortable furnished rooms and a wellness oasis where jacuzzi with Eastern mood, aroma- and light therapy, Hamam steam bath, Cleopatra- and Caesar-bath, Finnish and infra sauna and tepidarium wait for the guests.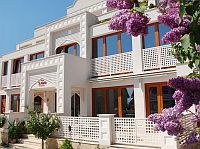 ✔️ Wellness és romantika az Amira Hotelben Hévízen (min. 2 night)

2023.09.01 - 2023.12.20
Wellness és romantika az Amira Hotelben Hévízen (min. 2 éj) 22.950 Ft / fő / éj ártól / félpanzió / 1 palack pezsgő vagy bor bekészítés / Marokkói Wellness Oázis használata / páros masszás-fürdő rituálé / ingyenes WiFi /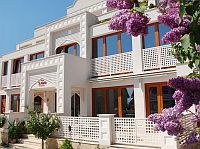 ✔️ Téli hétköznapi wellness pihenés Hévízen (min. 2 night)

2023.12.01 - 2024.02.29
Téli hétköznapi wellness pihenés az Amira Hotelben Hévízen (min. 2 éj) 16.995 Ft / fő / éj ártól hétköznap / félpanzió / Marokkói Wellness Oázis használata / masszázs kupon / ingyenes WiFi /