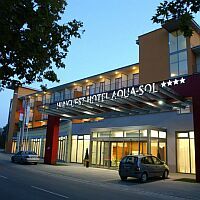 ✔️ Hotel Aqua Sol Hajdúszoboszló
4200 Hajdúszoboszló, Gábor Áron u. 7-9.
Phone: 00-36-1-2279614
Hotel video
The 4-star spa hotel - Hunguest Hotel Aqua-Sol - is located in Hajduszoboszlo, referred to as "Mecca of rheumatics", where the world-famous medicinal thermal bath has been receiving guests for 70 years. The hotel with its newly-built medical section offers treatments through the whole year.