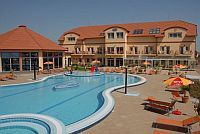 ✔️ Aqua Spa Wellness Hotel Cserkeszőlő
5465 Cserkeszőlő, Thermál út 1.
Phone: 00-36-1-2279614
Hotel video
 Aqua-Spa **** Wellness and Conference Hotel, opened in February 2008 in Cserkeszolo, a well-known settlement for its medicinal water in Hungary, offers 17 double rooms with 2 superior category rooms among them, 16 bungalows and 10 luxury apartments. The wellness department awaits the individual guests and the groups as well with experience pool, outdoor and indoor pools and saunas. Thanks to its conference possibilities the 4-star hotel is an ideal venue for conferences, meetings, company events and weddings.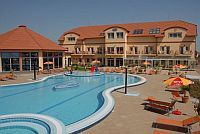 ✔️ Évnyitó hétköznapi akció az Aqua Spa Hotelben (min. 2 night)

2023.01.08 - 2023.03.31
Évnyitó hétköznapi akció az Aqua Spa Hotelben (min. 2 éj) 13.725 Ft / fő / éj ártól / félpanzió / wellness használat / ingyenes wifi /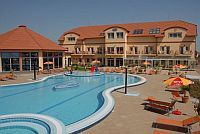 ✔️ Húsvéti wellness akció az Aqua Spa Hotelben (min. 3 night)

2023.04.06 - 2023.04.11
Húsvét és tavaszi szünet az Aqua Spa Hotelben (min. 3 éj) 19.900 Ft/ fő / éj ártól / félpanzió / wellness részleg használat / ingyenes WiFi /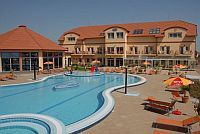 ✔️ Május 1. akciós wellness félpanzióval Cserkeszőlőn (min. 2 night)

2023.04.28 - 2023.05.01
Május 1. ünnep az Aqua Spa Hotelben (min. 2 éj) 19.900 Ft/ fő / éj ártól / félpanzió / wellness részleg használat / ingyenes WiFi /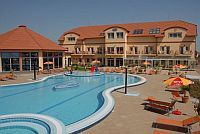 ✔️ Nyári akció az Aqua Spa Hotelben (min. 5 night)

2023.06.15 - 2023.08.31
Nyári akció az Aqua Spa Hotelben (min. 5 éj) 21.350 Ft / fő / éj ártól / szállás / félpanzió / wellness használat / ingyenes wifi /