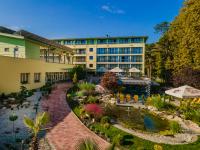 Hotel Sungarden Siófok
8600 Siófok, Batthyány út 24.
Phone: 00-36-1-2279614
Hotel video
Hotel Sungarden – Conference and Wellness Hotel – is situated on the nicest street of Siofok, at Lake Balaton. The 4-star hotel offers 58 rooms, own restaurant and a closed parking place for cars and buses. The beach is only 150 metres far from the hotel. Hotel SunGarden is waiting for its guests with a swimming pool of 32-34 °C thermal water and other recreational services: jacuzzi, hair stylist, cosmetic services and solarium.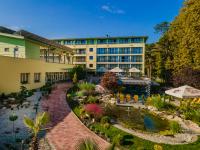 Őszi wellness kikapcsolódás a Sungardenben (min. 2 night)

2021.09.01 - 2021.12.01
Őszi wellness kikapcsolódás a Sungardenben (min. 2 éj) 16.500 Ft / fő / éj ártól / félpanzió / üdvözlőital / 2000 Ft értékű masszázs kupon / wellness világ használata / ingyenes WIFI /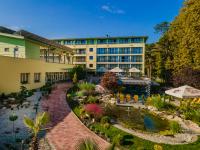 Téli wellness akció Siófokon (min. 2 night)

2021.12.01 - 2022.03.01
Téli wellness akció Siófokon (min. 2 éj) 15.900 Ft / fő / éj ártól / félpanzió / üdvözlőital / 2000 Ft értékű masszázs kupon / wellness világ használata / ingyenes WIFI /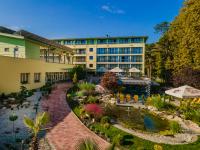 Garden of Love akció Siófokon (min. 2 night)

2021.09.01 - 2022.03.31
Garden of Love akció Siófokon (min. 2 éj) 19.500 Ft / fő / éj ártól hétköznap / pezsgő, rózsaszirom és gyümölcstál bekészítés / Aprodithé koktél / félpanzió / wellness használat / ingyenes wifi /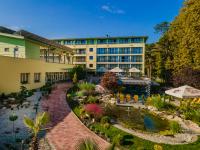 Hétköznapi wellness akció a SunGarden Hotelben (min. 2 night)

2021.09.01 - 2022.03.31
Hétköznapi wellness akció a SunGarden Hotelben (min. 2 éj) 18.500 Ft / fő / éj ártól hétköznap / félpanzió / 25 perc masszázs / Vitality koktél / wellness használat / ingyenes wifi /