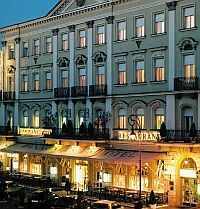 ✔️ Pannonia Hotel Sopron
9400 Sopron, Várkerület 75.
Phone: 00-36-1-2279614
Hotel video
The 4-star Hotel Pannonia, located in the heart of Sopron, reflects on both the 19th century and modern style. The oldest hotel of Sopron offers different style rooms and a wellness area. WiFi Internet connection is available in all public areas and guest rooms of the hotel. For those who arrive with a car the hotel provides parking lots in the deep garage.