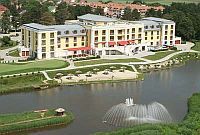 ✔️ Pólus Palace Thermal Golf Club Hotel
2132 Göd, Kádár utca 49.
Phone: 00-36-1-2279614
Hotel video
The 5-star Polus Palace Thermal Golf Club Hotel is located only 20 km from Budapest in God. The wellness- and golf-hotel offers a wide selection of leisure possibilities and a unique environment for recreation and entertainment.: the luxury rooms and suites, the restaurants and the Kerubina Spa & Wellness Centre satisfy every demand. The Polus Palace Golf & Country Club is a true paradise for active holiday lovers: 18-hole golf course, cycling, horseback riding, hunting and archery are available for our guests.