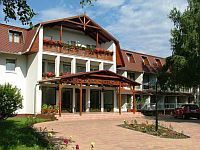 ✔️ Zsóry Hotel Fit
3400 Mezőkövesd, Fülemüle út 7. 
Phone: 00-36-1-2279614
Hotel video
The 4-star Zsory Hotel Fit**** is located in the vicinity of Mezokovesd which is famous for its colorful Matyo popular art and only 250 metres from Zsory Spa which is one of the most famous spas of Northern Hungary. Zsory Hotel Fit**** has got 52 air conditioned rooms, a Renaissance style restaurant and an own wellness-fitness department.