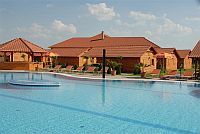 ✔️ Bungalow Aqua Wellness Cserkeszőlő
5465 Cserkeszőlő, Thermál út 1.
Phone: 00-36-1-2279614
Hotel video
Aqua-Spa Wellness Bungalows are located in Cserkeszolo, well-known for its medicinal water, only 30 km far from Kecskemet. The hotel complex has 10 bungalows, 17 double rooms (including 2 superior category rooms where extra bed is available) and 10 luxurious apartments. The bungalows can accommodate up to 6 people. In the wellness section experience pools, indoor and outdoor pools guarantee the pleasant time, and due to its excellent conference possibilities, Aqua-Spa **** Wellness and Conference Hotel is the perfect venue of several types of events.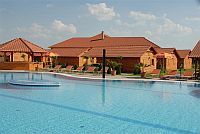 ✔️Tavaszi pihentető hétköznapok akció bungalóban Cserkeszőlőn (min. 2 night)

2023.04.01 - 2023.06.15
Tavaszi pihentető hétköznapok bungalóban Cserkeszőlőn (min. 2 éj) 14.975 Ft / fő / éj ártól / félpanziós ellátás / szaunák / beltéri élménymedence / ingyenes WiFi /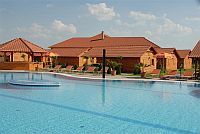 ✔️Nyári akciós bungaló árak Cserkeszőlőn (min. 3 night)

2023.06.15 - 2023.08.31
Nyári akciós bungaló árak Cserkeszőlőn (min. 3 éj) 26.720 Ft / fő / éj ártól / szállás / félpanzió / wellness használat / ingyenes wifi /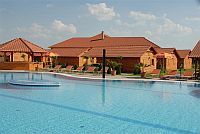 Utószezoni akciós ár finn faházban Cserkeszőlőn (min. 1 night)

2023.09.01 - 2023.12.20
Utószezoni akciós ár finn faházban Cserkeszőlőn (min. 1 éj) 17.500 Ft / fő / éj ártól / szállás / büféreggeli / wellness használat / ingyenes wifi /