✔️ Bungalow Aqua Wellness Cserkeszőlő ****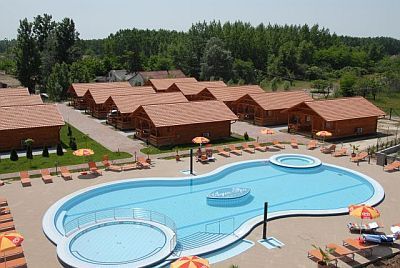 Bungalow Aqua - Spa **** Wellness Bungalow Cserkeszolo
Aqua-Spa Wellness Bungalows, opened in February 2008 are located only 200m far from the famous Spa and Thermal Bath of Cserkeszolo, only 30 km from Kecskemet. The city can be easily reached from Budapest in a few hours on the M5 motorway.
In the building of Aqua-Spa Wellness and Conference Hotel can be found 17 double rooms, 10 luxurious apartments and 16 bungalows, ideal accommodation solution for families with young children.
Hotel Aqua-Spa**** ensures airport transfer possibilities for fee.

The bungalows of the Aqua-Spa Wellness Bungalows:
Aqua-Spa Bungalows, situated in a landscaped environment, can accommodate 4+2 people. The bungalows are air-conditioned and have two sleeping rooms, a living room, a bathroom, wc, a small kitchen corner and a nice roofed terrace on a floor space of more than 60 sqm. To its equipment belong kitchen utensils and pots, refrigerator, colour (satellite) television, telephone, Internet-connection and built-in safe. All the guest-houses have own parking-place.
Aqua-Spa Wellness and Conference Hotel Cserkeszolo also offers 10 luxurious Aqua-Spa Apartments and 17 non-smoking, air-conditioned double rooms with balcony.
In Aqua-Spa Bungalows pets are welcome.
The restaurant of Aqua-Spa**** Bungalows
The restaurant of Aqua Spa Wellness Hotel Cserkeszőlő Bungalows offers to its guests the specialities of the Hungarian and international cuisine as well.
The winter garden, directly connected to the four-star Aqua-Spa Bungalows, the nice, flowery, open terrace extending to the bank of the open-air pool, the gourmet foods and the internationally acknowledged wine selection offer perfect relaxation for the clients. The drink bar and the pool bar, connected to the outside swimming pool await the guests with fine cocktails.
Wellness facilities in Aqua-Spa**** hotel complex in Cserkeszolo
In the wellness area outdoor and indoor pools, experience pools, pool for children and sauna world with Finnish sauna, infra sauna, bio sauna, steam bath and sink-in pool are available for the guests.
In the wellness section various beauty services as cosmetic saloon, pedicure, manicure and different types of massages are at guests' disposal.
Medical treatments of the spa of Cserkeszolo near Aqua-Spa**** Wellness Bungalows
The Medical and Thermal Bath Cserkeszolo, situated only 200 m far from Aqua-Spa **** Wellness Bungalows offers a wide range of leisure activities and medical treatments for those who would like to refresh and cure themselves. The bath offers special medical cures for locomotor, rheumatic, gynecological, asthmatic and cutaneous diseases. The 82 °C geothermal water gushing to the surface from a depth of 2300 meters contains iodine, alkali chloride and hydrogen carbonate and can also use as a drinking cure.
The salt cave built from the health-salt of Bochnia cures the diseases of the respiratory organs.
For those who prefer refreshing and bathing Europe's first and longest 2-lane tarpaulin chute and 'water castle', wave pool, swimming pool, pool for children, experience pools and back massagers are available.
Programme opportunities in Bungalow Wellness Aqua-Spa Cserkeszolo
Aqua-Spa Wellness Bungalows offer a wide range of active holiday programmes. Our team organizes water trips on the river Holt-Koros in Szarvas, but horseback riding, cycling, archery, paintball, beach volleyball and wine tasting are also available in the area of Aqua-Spa Wellness Bungalow.
For groups we organize pálinka (traditional Hungarian spirit) and wine tasting in the nearly Bolza cellar in Tiszakurt.
For those who like the extreme experiences we recommend the adventure park of Tiszakurt Arboretum.
Additional services of Aqua-Spa Wellness Bungalows: children playground, grill garden, closed parking lot, beach volleyball and airport transfer.

Conference opportunities in Wellness and Conference Hotel Aqua-Spa**** Cserkeszolo
The conference centre of the 4-star Hotel Aqua-Spa offers a 270 sqm large air-conditioned, natural-lighted conference room on the top floor of the building. The conference room can be divided into 3 smaller rooms (60, 80, 130 sqm) and with its capacity of 220 guests offers a comfortable venue for organizing weddings, conferences, company organizations and trainings.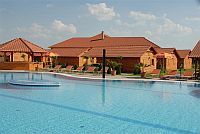 ✔️ Utószezoni akciós ár finn faházban Cserkeszőlőn (min. 1 night)

2023.09.01 - 2023.12.20
Utószezoni akciós ár finn faházban Cserkeszőlőn (min. 1 éj) 17.500 Ft / fő / éj ártól / szállás / büféreggeli / wellness használat / ingyenes wifi /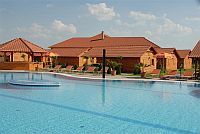 ✔️Őszi akciós hétköznapok bungalóban Cserkeszőlőn (min. 2 night)

2023.09.03 - 2023.12.20
Őszi hétköznapi akció faházban Cserkeszőlőn (min. 2 éj) 14.975 Ft / fő / éj ártól / félpanzió / wellness használat / ingyenes wifi /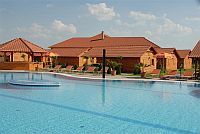 ✔️Karácsonyi félpanziós akció Cserkeszőlőn bungalóban (min. 3 night)

2023.12.23 - 2023.12.27
Karácsonyi akció Cserkeszőlőn bungalóban (min. 3 éj) 28.500 Ft/ fő / éj ártól / félpanzió / ünnepi vacsorák / wellness részleg használat / ingyenes WiFi /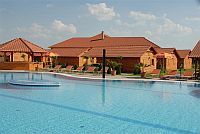 ✔️Szilveszteri akció Cserkeszőlőn finn faházban (min. 3 night)

2023.12.30 - 2024.01.02
Szilveszteri akció Cserkeszőlőn finn faházban (min. 3 éj) 35.900 Ft / fő / éj ártól / min. 4 fős elhelyezés / félpanzió / szilveszteri gálavacsora élőzenével / tombola / wellness / ingyenes wifi /