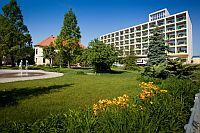 Aranyhomok**** Wellness Hotel Kecskemét, Hungary
6000 Kecskemét, Kossuth tér 3.
Phone: 00-36-1-2279614
Hotel video
The 4-star wellness hotel Aranyhomok is situated on the historic main square of Kecskemet. The wellness hotel offers 111 renovated rooms, an air conditioned restaurant and a brand new wellness centre where swimming pool, sauna, jacuzzi, gym, special massages and treatments await the hotel guests. The "puszta programs" are excellent tourist attractions in the region.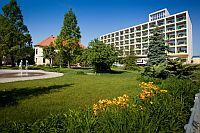 ✔️ Napi ár félpanzióval az Aranyhomok Hotelben (min. 1 night)

2023.09.01 - 2023.12.20
Napi ár félpanzióval az Aranyhomok Hotelben (min. 1 éj) 24.200 Ft / fő / éj ártól / félpanzió / wellness centrum használat / ingyenes WiFi /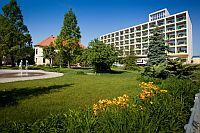 ✔️ Napi ár reggelivel az Aranyhomok Hotelben (min. 1 night)

2023.09.01 - 2023.12.20
Napi ár reggelivel az Aranyhomok Hotelben Kecskeméten (min. 1 éj) 17.600 Ft / fő / éj ártól / reggeli / wellness centrum használat / ingyenes WiFi /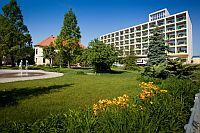 ✔️ Szilveszteri akció az Aranyhomok Wellness Hotelben (min. 2 night)

2023.12.30 - 2024.01.01
Szilveszteri akció az Aranyhomok Wellness Hotelben (min. 2 éj) 42.650 Ft / fő / éj ártól / félpanzió / szilveszteri ünnepi vacsora / wellness centrum használat / wellness kupon / ingyenes WiFi /