Aranyhomok Hotel Kecskemét ****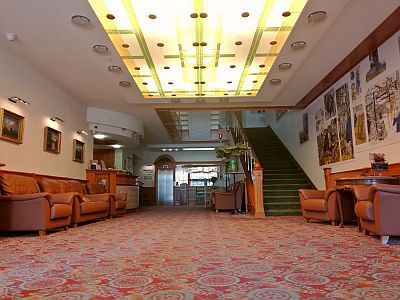 Aranyhomok Business Wellness Hotel **** Kecskemet
Kecskemet, the centre of the region between the Danube and the Tisza, lies on the sand dunes of Homokhátság, on the 'gold sand'. Kecskemet - the "Famous Town" - is the county seat of Bács-Kiskun County, has centuries-old history.
The 4-star Wellness Hotel Aranyhomok is situated on the historic main square of Kecskemet. The windows of the hotel open partly on the square and partly on the street.
The wellness hotel awaits its guests with completely renovated rooms and suites.
Guest room information:
- 4 suites
- 3 Business room
- 66 superior double rooms looking on to the main square (balcony, bathroom with bathtub), 16 rooms with double bed among them
- 20 standard twin rooms looking on to the street (bathroom with shower, separated beds)
- 15 single rooms looking on to the street (bathroom with shower)
All rooms are equipped with colour TV with satellite channels, direct dial telephone and minibar. The superior rooms have hair drier and air conditioning. There are non smoking rooms on every storey.
The hotel with its 108 rooms is an excellent place for tourist groups.
The hotel's renovated, air conditioned restaurant offers international meals and the specialities of the local cuisine. The guests can choose from beers, short drinks and wide range of Hungarian wines. The restaurant can accommodate 50 persons.
The hotel's brand new wellness centre was opened in 2004 on 420 m²: 12-metre long swimming pool, jacuzzi, aromatic steam bath, sauna with light-therapy, infrasauna, massage, gym, solarium and treatments in hydroxeur bath give hotel guests an opportunity to feel themselves pleasantly. The swimming pool and the rest place give possibility for swimming parties.
There is a fantastic view of the pool through a panorama window from the new lobby bar of the hotel.
Services:
- Special massages and treatments (with Germaine de Capuccini products): stretching, relaxing, hydrating, slimming
- Treatments in hydro massage tub (with Germaine de Capuccini products)
- Combined treatments (with Germaine de Capuccini and Dresdner Essenz products)
Opening hours:
Monday-Friday: 17:00-22:00
Saturday-Sunday: 8:00-20:00

Excursions:
The Tanyacsarda of Lajosmizse, famous for its "puszta programs" and gastronomy, and the Karikás Csarda of Bugac are excellent tourist attractions of the region. (The most typical Hungarian restaurants are called "csarda")
The Öreg (Old) Tanyacsarda is situated in Lajosmizse, 71 km from Budapest, along the main road nr. 50. In 2004 it won the prize of 'The best restaurant of the region'. The Uj (New) Tanyacsarda was built in 1992. The "Puszta program" includes performances of the horsemen, chance to ride and dinner in the restaurant with wine and gipsy music.
The Karikás Csarda and Guest House can be found in Bugac. The second largest plain (puszta) of Hungary is situated on its area. It is the part of Kiskunsag National Park. The untouched nature, the museums, the grill-parties, the riding programmes and the guided city tours in Kecskemet give special experience.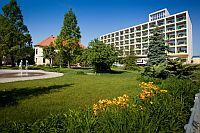 Őszi wellness akció az Aranyhomokban (min. 2 night)

2021.09.01 - 2021.12.19
Őszi wellness akció az Aranyhomokban (min. 2 éj) 14.375 Ft / fő / éj ártól / félpanzió / üdvözlőital / wellness centrum használat / belépő a Bozsó Gyűjteménybe / belépő a Vadasparkba / ingyenes WiFi /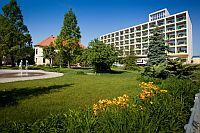 Nyugdíjas akció Kecskeméten hétvégén (min. 2 night)

2021.09.01 - 2021.12.19
Nyugdíjas akció a Hotel Aranyhomokban Kecskeméten (min. 2 éj) 13.200 Ft / fő / éj ártól / félpanzió / wellness centrum / belépőjegy a Bozsó Gyűjteménybe / 20% kedvezmény a wellness kezelések áraiból / ingyenes WiFi /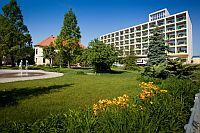 Wellness gyöngye akció az Aranyhomok Hotelben (min. 2 night)

2021.09.01 - 2021.12.19
Wellness gyöngye akció az Aranyhomok Hotelben (min. 2 éj) 16.975 Ft / fő / éj ártól / félpanzió / üdvözlőital / wellness centrum használat / wellness kupon / ingyenes WiFi /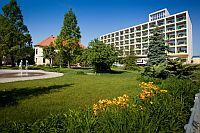 Párosan szép az élet Kecskeméten (min. 1 night)

2021.09.01 - 2021.12.19
Párosan szép az élet Kecskeméten (min. 1 éj) 16.400 Ft / fő / éj ártól / svédasztalos reggeli / 1 alkalommal gyertyafényes menüvacsora / pezsgő, csokoládé és fürdősó bekészítés a szobában / Wellness centrum használat / wellness kupon / ingyenes wifi /