✔️ Hotel Hajnal Mezőkövesd ***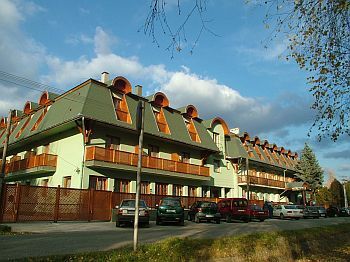 Hotel Hajnal Mezokovesd ***
The 3-star Hotel Hajnal is situated in Mezőkövesd, the capital of 'Matyó-land'. The Matyó ethnic group is famous for its unique folk costumes, architectural features and folk crafts.
Zsóry Health Spa can be found next to Mezőkövesd, 140 km from Budapest. The 71 °C thermal water, gushing up from 875 metres deep, is a natural medicinal water containing calcium-magnesium-chloride hydrogen carbonate and free carbonic acid. The sulphide content of the water is the highest in Hungary: 15.5 mg/l.
The medicinal water of the baths is used in the treatment of locomotor disorders, rheumatic problems, arthritis, gynecological disorders, articular inflammations, neuralgia, post rehabilitative treatments of injuries and orthopedic operations.
Hotel Hajnal is located only 150m from the famous Zsóry Health Spa, at the southern foot of the Bükk Mountain.
The 3-storey hotel can accommodate up to 120 persons. The hotel has 54 rooms (single, double rooms and rooms with 3 or 4 beds). All rooms are equipped with balcony, bathroom (with shower), minibar, telephone and colour TV with satellite programs. Non-smoking and air conditioned rooms are available.
Hotel Hajnal has a restaurant offering international meals and the specialities of the Hungarian cuisine. The guests can have vegetarian and low fat meals too.
In the basement of the hotel you can find a sauna, jacuzzi, fitness room and a salt cave. The guests can use them free 30' per day. On request: massage, magnethotherapy.
In the garden closed parking, barbecue and grill facilities, playground guarantee the enjoyable resting.
And what to see?
Town of Eger: Castle, Minaret, Szépasszony Valley, Basilica
National Park of Bükk: caves, Szilvásvárad, Forest Museum, Szalajka-völgy (Szalajka Stream, Valley of Szalajka), Lipizzaner herd
Miskolctapolca: cave pool, unique in Europe
Tisza-tó (Lake Tisza): with a surface of 127 km2, fishing, water sports
Thermal- and medicinal baths: Eger, Egerszalók, Bogács, Tiszafüred