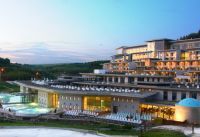 Saliris Resort Spa Hotel Egerszalók**** Hungary
3394 Egerszalók, Forrás út 6.
Phone: 00-36-1-2279614
Hotel video
Saliris Resort **** Spa and Conference Hotel is situated in a 17.5 hectare superb natural environment ringed by pine forests in Egerszalok. The four-star spa hotel is connected by a glass corridor to the exclusive thermal spa, built near the only salt hill of Europe. The Thermal Spa of Egerszalok with its 17 outdoor and indoor pools (sitting pools filled with medicinal water, cave pool, jacuzzi, adventure pools, children pools, Kneipp tread basin, echo pools) on a water surface area of 1900 m² ensures the total relaxation and rejuvenation of guests.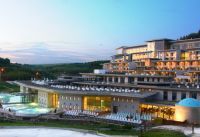 ✔️ Tavaszi hétvégi félpanziós akció Egerszalókon a Saliris Hotelben (min. 2 night)

2023.04.01 - 2023.06.30
Tavaszi hétvégi félpanziós akció Egerszalókon a Saliris Hotelben (min. 2 éj) 40.000 Ft / fő / éj ártól / félpanziós ellátás / Thermal Spa használata / fitness terem / ingyenes wifi /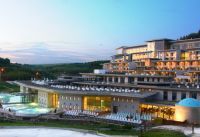 ✔️ Tavaszi hétköznapi félpanziós akció Egerszalókon a Saliris Hotelben (min. 2 night)

2023.04.01 - 2023.06.30
Tavaszi hétköznapi félpanziós akció Egerszalókon a Saliris Hotelben (min. 2 éj) 34.000 Ft / fő / éj ártól / félpanziós ellátás / Thermal Spa használata / fitness terem / ingyenes wifi /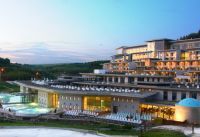 ✔️ Nyári Saliris napok Egerszalókon (min. 2 night)

2023.07.01 - 2023.08.31
Nyári kihagyhatatlan Saliris napok Egerszalókon (min. 2 éj) 43.000 Ft / fő / éj ártól / félpanzió / Thermal Spa korlátlan használata / fitness terem / ingyenes Wifi /