✔️ Vulkán Wellness Hotel**** Celldömölk ****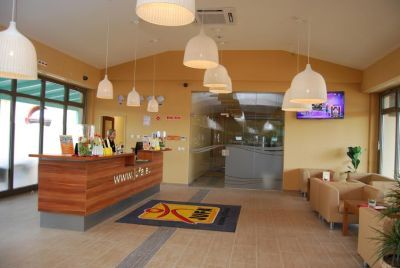 Vulkan Wellness Thermal Hotel Celldomolk **** - Discount thermal and wellness hotel in Celldomolk
Situation:
Vulkan Wellness Hotel, located in Celldömölk, at the bottom of the Ság mountain, is a 4-star hotel with direct connection to the Vulkan thermal bath and spa. The hotel can be easily approached both by public transportation and by car from Budapest.
Rooms:
The Vulkán Wellness Hotel offers 27 rooms with terrace, 13 rooms without balcony, connecting rooms for families, 2 rooms for physically disabled people and 8 business rooms. All of the hotel rooms are equipped with modern equipment meeting the requirements of nowadays: bathroom with shower, radio, telephone, satellite TV channels, hair dryer, bathrobe, Internet connection, safe and air conditioner. A camping with 74 places belongs to the hotel, where guests can enjoy the whole infrastructure of the hotel and the thermal bath.
Gastronomy:
The Grill Restaurant of the Hotel offers the specialities of the Hungarian and the international cuisine as well and also vegetarian dishes.
Wellness facilities:
The hotel is directly connected to Vulkan Spa, so the hotel guests can enjoy the services of the bath free of charge: 25 meters long sport pool, spa and thermal bath, outdoor fun pools, slides, sauna world (aroma steam bath, Finnish sauna, volcano stone sauna, salt cave, infrared sauna), relax room with a view to the Ság Mountain.
The following therapeutic services are available in the medical department of the Vulkan Spa: mud-pack, carbonated bath, medical gymnastics, medical massage, thermal bath with salty water.
In the area of Vulkan Spa cosmetic treatments, massages, active courses (aerobic, zumba, water gymnastics), restaurant and buffet are also available.
Free time facilities:
In the Hotel fitness room, table tennis, kicker, billiard, bicycle renting and tennis court are available for the enthusiasts of the active relaxation. There is also a possibility for fishing and hunting close to the hotel. The Celldomolk region and the Ság mountain offer several free time program facilities, a lot of tour- and pilgrimpathes. 500 metres far from the hotel, in the Kemenes Vulkan Visitor Centre the visitors can learn about the functioning of the volcanoes.
Vulkán Wellness Hotel Celldömölk Hungary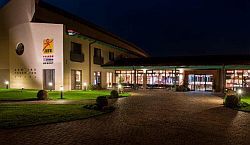 ✔️ Őszi hétköznapi akció félpanzióval a JUFA Vulkán Thermen Resortban (min. 2 night)

2023.11.05 - 2023.12.22
Őszi hétköznapi akció félpanzióval a Vulkán Wellness Hotelben (min. 2 éj) 23.000 Ft / fő / éj ártól / félpanzió / belépés a Vulkán Gyógy- és Élményfürdőbe / ingyenes parkolás / ingyenes wifi /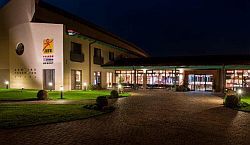 ✔️ Őszi hétvégi akció félpanzióval a JUFA Vulkán Thermen Resortban (min. 2 night)

2023.11.05 - 2023.12.22
Őszi hétvégi akció félpanzióval a Vulkán Wellness Hotelben (min. 2 éj) 23.000 Ft / fő / éj ártól / félpanzió / belépés a Vulkán Gyógy- és Élményfürdőbe / ingyenes parkolás / ingyenes wifi /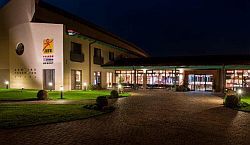 ✔️ Év eleji hétvégi akció félpanzióval a JUFA Vulkán Thermen Resortban (min. 2 night)

2024.01.07 - 2024.02.29
Év eleji hétvégi akció félpanzióval a Vulkán Wellness Hotelben (min. 2 éj) 22.600 Ft / fő / éj ártól / félpanzió / belépés a Vulkán Gyógy- és Élményfürdőbe / ingyenes parkolás / ingyenes wifi /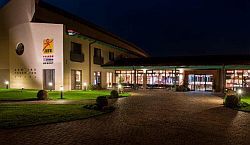 ✔️ Év eleji hétköznapi akció félpanzióval a JUFA Vulkán Thermen Resortban (min. 2 night)

2024.01.07 - 2024.02.29
Év eleji hétköznapi akció félpanzióval a Vulkán Wellness Hotelben (min. 2 éj) 22.600 Ft / fő / éj ártól / félpanzió / belépés a Vulkán Gyógy- és Élményfürdőbe / ingyenes parkolás / ingyenes wifi /