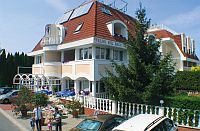 ✔️ Hotel Kakadu Keszthely
8360 Keszthely, Pázmány P. u. 14.
Phone: 00-36-1-2279614
Hotel video
The family atmosphere Wellness Hotel KAKADU ***superior is located in Keszthely, only 350 m from Lake Balaton. Wellness Hotel KAKADU ***superior – open throughout the whole years offers to its guests 28 rooms, 4 apartments – all with WiFi Internet connection - and an own wellness club which assures the possibility of health preservation and the refreshment of body and soul. The hotel is an ideal starting point for numerous excursions, visitors might get enchanted by the historic atmosphere of Keszthely, the architectural and cultural heritage and at the same time by the wonderful natural surroundings. The lake of Heviz, the largest natural thermal lake of Europe, can be reached in 10 minutes by car from the hotel.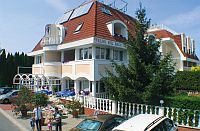 ✔️ Pezsgős wellness akció reggelivel Keszthelyen (min. 2 night)

2023.04.14 - 2023.10.15
Pezsgős Wellness akció reggelivel Keszthelyen (min. 2 éj) 21.450 Ft / fő /éj ártól / svédasztalos reggeli / Wellness Club használata / ingyenes Wifi / ingyenes parkolás /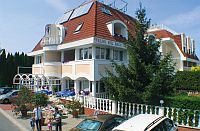 ✔️ Pezsgős wellness akció félpanzióval Keszthelyen (min. 2 night)

2023.04.14 - 2023.10.15
Pezsgős Wellness akció félpanzióval Keszthelyen (min. 2 éj) 26.450 Ft / fő /éj ártól / félpanzió / Wellness Club használata / ingyenes Wifi / ingyenes parkolás /