✔️ Hotel Kakadu Keszthely ***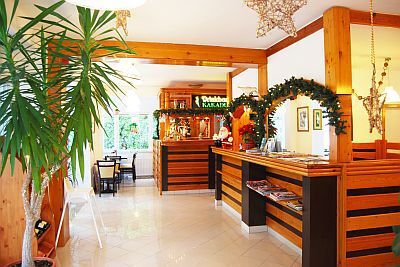 Wellness Hotel KAKADU ***superior Keszthely
The family atmosphere Wellness Hotel KAKADU ***superior - renewed in 2009 - is located in Keszthely, only 350 m from Lake Balaton. The world famous lake of Heviz, the largest natural thermal lake of Europe, can be reached in 10 minutes by car from the hotel.
Wellness Hotel KAKADU ***superior is open throughout the whole year and welcome the individual guests and groups with extended services which assure the possibility of health preservation and the refreshment of body and soul.
The professional marketing and event organizer team of the hotel offers its services for various purposes: organizing accomodations, meals, wellness services, room rental, trainings, conference planning and conference management, providing partners for event management, organizing extra programs, lectures and presentations.
Wellness Hotel KAKADU has 32 rooms and 4 apartments. The double and triple rooms are equipped with TV, telephone, radio alarm clock, WiFi Internet access, safe deposit box, fridge, tea kitchen, bathroom (shower, toilet, hair dryer) and balcony.
There are smoking and non smoking rooms and rooms with air conditioning at guests' disposal.
The bar and restaurant of Wellness Hotel Kakadu are located on the ground floor where hotel guests are welcome for abundant buffet-breakfasts in the morning and delicious dinners in the evening.
Wellness Club:
In the wellness club of Wellness Hotel KAKADU indoor heated pool, jacuzzi, Finnish sauna, infra sauna, solarium, steam cabin and sauna pool ensure the clients' refreshment and complete relaxation.
The beauty section of the hotel offers facial and whole body treatments, traditional and Oriental massage techniques (ayurveda, shiatzu, lymphatic massage, acupressure and thalassotherapeutic treatments). Additionally, we await our guests with special cosmetic and beauty programs.
From the heated, indoor, stretched surface swimming pool, full of exotic mediterranean plants and connecting the two hotel buildings, a panoramic elevator takes you to the roof terrace which provides a breath-taking view to Keszthely.
Under the hot sun it's the deck chairs and showers in the shadow of the trees, also the cool drinks served from our bar that make your relexation complete.
Medical and dental services:
The dental surgery of Wellness Hotel KAKADU offers free health check, counselling, individualized treatment plan and making price offer.
On previously fixed appointments bioresonance health check, wellness or life counselling and eye examination are also available.
Programmes in Keszthely and surrounding:
In Keszthely visitors might get enchanted by the historic atmosphere of the buildings, the architectural and cultural heritage and at the same time by the wonderful natural surroundings.
Besides the former exhibitions in Festetics castle (exhibition presenting gentry lifestyle during 18th-19th centuries, Helikon library, weapon collection, arts of the Islamic world), new peculiar collections have opened like the unique carriage museum, the trophy collection and the hunting exhibition located in the new wing of the building. You can also take a visit to Europe's largest terrain table, the 500m2 surface exhibition of railway history and models. The Marzipan Museum and pastry shop is located just some steps outside the castle and awaits visitors with over a hundred magnificent marzipan creatures which can naturally also be tasted and bought.
Further spots of interest: Balaton Museum, Georgikon Farm Museum, Snail parliament, Doll Museum, Panopticon, Museum of Radio and Television.
If you visit Keszthely don't miss the walk on the shore of Lake Balaton under the old sycamore trees, or in case you have more time a sailing trip or a pleasure cruise on the lake offers beautiful views to the Keszthely hills.
The famous lake of Hévíz is located only 6 kilometers away from Keszthely. Being the largest natural thermal lake in Europe, it provides an unforgettable experience for its visitors.
Once the open water bay of Lake Balaton, Little Balaton today is an environmental protection area with a particularly rich bird life. Along with the Keszthely hills, it belongs to the Upper Balaton National Park, attracting all who are enthousiastic about natural beauties.
Further attractions of the neighbourhood are Kápolnapuszta, Buffalo Reserve, Diás Island, Vörs local house, Balatonederics cave of magic berries, Africa Museum, cave lake of Tapolca, stupa in Zalaszántó, hiking and mountain routes in the Keszthely hills.
Castles near Keszthely: Rezi, Tátika, Sümeg (with historical plays), Szigliget.
Another favourite destination along the shores of lake Balaton is Badacsony situated on the volcanic slopes of Badacsony hill, one of the largest and most famous wineyards in Hungary. The stops of this qualified Wine Tour give our dear guests the opportunity for exigent wine tasting and also for the purchase of the presented products.
Wellness Hotel KAKADU Keszthely