✔️ Hotel Marina Port Balatonkenese ****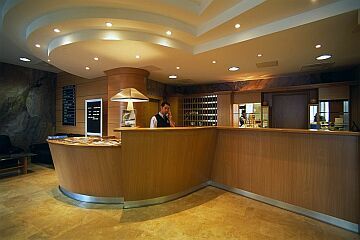 HOTEL MARINA-PORT **** Balatonkenese - Balaton
Hotel Marina-Port****, thanks to its air-conditioned rooms, which meet every demand, and brand new fitness and wellness center, is one of the most beautiful four-star-hotels at Lake Balaton.
The waterside hotel is located just one-hour-drive from Budapest, in Balatonkenese, next to Lake Balaton's most modern port. The hotel can be reached by taking route 71 after turning off the M7 highway in the direction of Balatonfüred.
Hotel Marina Port Balatonkenese - Rooms:
Our double rooms are equipped with television, pay television, telephone, minibar, air-conditioning, bathroom with bathtub and terrace from which a magnificent view of the lake can be seen. Extra beds can be moved into our double rooms as desired.
Our rooms for 3 persons contain television, pay television, telephone, minibar, air-conditioning and bathroom with shower cabin, and have a view of the port and the hotel yard. We recommend these rooms for families with children.
Each of our spacious suites comprises two double rooms. They are equipped with television, pay television, telephone, mini bar, air-conditioning and bathroom with bathtub. We recommend our suites for families with children and also for groups of friends.
Marina Port Balaton - Catering:
Our master chef guarantees gastronomic pleasures at the air-conditioned restaurant. The restaurant has a beautiful terrace with a view of Lake Balaton. On the property of the plage the open-air Nádas restaurant is expecting guests with barbeques and Hungarian-style parties.
The hotel's drink bar and lounge also awaits the guests with a terrace that opens into Lake Balaton.
Sport and leisure facilities:
Our elegant and modern sports centre, with its 10×20 meter streched-water-surface pool, jacuzzi for 10 persons and with a panorama over the glass wall, creates an impression as though you were refreshing yourself directly in Lake Balaton.
In the air-conditioned gym you can use the latest 'Techno Gym' type cardio and fitness machines with the help of our personal trainers.
There is also a squash court available.
For our guests who are longing for body refreshment and an opportunity to blossom out, we offer our aroma sauna, massage with volatile oils, and natural cosmetics and beauty treatment.
With our lying and standing bio solarium our guests do not have to do without the positive effects of sunlight, even in wintertime.
Hotel Marina-Port Balatonkenese - Lago Balaton - Plage:
Relax at the large plage of the hotel. With its deckchairs and sunshades it secures you carefree and refreshing resting. A huge outdoor chessboard awaits the fans of the sport with its beautifully carved chess figures.
A wooden playground awaits children outdoors. Also in summer, smaller pools are available for them.
Hotel Marina Port - Sailing:
We recommend this amusing form of relaxation for our individual guests; it's guaranteed to offer a singular experience for children and adults alike.
We are equipped with boats for larger and smaller groups of people for the use of our guests.
Balatonkenese programs:
The riding arena of Balatonkenese (a ten-minute-walk from the hotel) offers a wide range of services to our guests.
The bobsledding court at Balatonfűzfő, on a basic area of 2000 square meters, offers unclouded entertainment for children and adults. The full length of the court is 800 meters, built on a property having a 39 meters difference of level.
Excursions:
Sightseeing tour in Veszprem
Porcelain production in Herend
Excursion to Tihany
Excursion to the Castle of Nagyvázsony
Wellness weekend in Hungary Hotel Marina Port**** Balatonkenese