✔️ Hotel Piroska Bük, Bükfürdő ****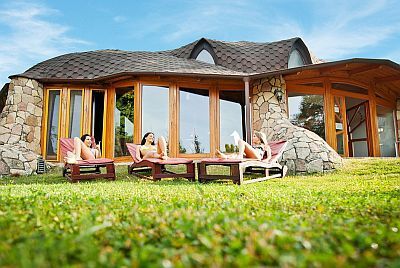 Hotel Piroska Buk **** Wellness Hotel Piroska Buk - Bukfurdo
Your wellness- and spa hotel in Buk
The 4-star wellness Hotel Piroska**** is located in Western Hungary in the vicinity of spa Buk (Bukfurdo) famous for its medicinal water.
The familiar hotel offers comfortable rooms, own whirlpool bath and medical centre, high level restaurant and beauty salon for the guests who wish to recover and relax. Hotel Piroska **** has been fully renewed due to the 20th jubilee of its existence and the developments, but it awaits the guests with the common friendly and familiar atmosphere. New, comforable superior rooms, traditional and stylish equipment, new facade and inviting indoor spaces welcome the guests of Hotel Piroska **** Bük.
Hotel Piroska Bük - Bukfurdo:

For Your comfort…

The 92 Classic and Superior rooms of Hotel Piroska await the guests in a new gown, adapting to the newest demands in Buk. Due to the renovation, superior rooms were developed and all of them have modern, traditional motives, renewed furnishment, new carpets and curtains, LCD TV with satellite programs and new bathroom with shower. In addition to the single-, double- and triple rooms, family and connecting rooms and superior suite - according to the special demands -, antiallergic rooms (Himalayas salt wall, antiallergic bed linen, mite- and dust free), specially equipped rooms for the handicapped and animal-friendly rooms were also formed.
Hotel Piroska Bük - Bükfürdő Gastronomy:
Piroska restaurant
Our restaurant with winter garden and summer terrace welcomes its guests between 11:00 - 22:00 every day. A wide choice of creative, light cuisine and typical Hungarian food with a fantastic buffet breakfast in the morning are served. We offer the wide range of quality Hungarian wines for our meals. Entertainment of our guests is provided by vivid evening programs and live music which take place on the covered summer terrace from spring till autumn.
Sport- and children programs in Hotel Piroska Bukfurdo:
Have a good time!
Active rest is guaranteed by our skilled animators all year round for all age-group: sports- and children animation, morning gymnastics, cycle tours, nordic walking, arts and crafts, sports competitions, balloon folding and other joyful programs wait for both children and adults.
Our smallest guests can enjoy the playroom, the outdoor playground and the trampolines of Hotel Piroska.
Medical treatments in Hotel Piroska:
For Your health…
Our modern medical centre and our well-trained staff offers you exceptional, professional and personalised services which - together the treatments - enhance the effects of the bath cures. In addition to the medical treatments we offer a wide selection of classic and special massages: classical massage, medicinal-cream massage, sole reflex massage, underwater massage, Japanese massage, migraine therapy, lymphdrainage. In Hotel Piroska the following treatments can be required after medical examination: mud-pack, medical-cream pack, laser therapy, Bioptron light - therapy, inhalation, galvanic bath and medical gymnastics.
Wellness Hotel Piroska Buk - Wellness:
Refreshing and relaxing…
In May 2003 we opened our new Wellness area with whirlpool basin, Finnish sauna, bio- and infra sauna, steam bath, tepidarium, aromatherapy and colour-therapy. The whirlpool basin and its cascade, geyser, neck- and back-massage offer perfect relaxing.
Bükfürdő - Bük:

The curing spring…

The medicinal water is rising from the world famous thermal springs of Bükfürdő. The alkali hydrogen carbonate medicinal water has high carbonic acid content and contains fluoride, iodine and iron. The water is recommended as bath cure for healing the orthopaedic and rheumatic disorders and for post-accident treatments; as drinking cure for digestive disorders; and the inhalation has a curative effect for respiratory complaints. Hotel Piroska provides free bus transfer to the Thermal- and Adventure Bath of Bük, which is one of the most popular bath of Europe and is the second largest spa-, beach-, and adventure bath of Hungary.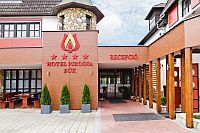 ✔️ Téli wellness akció a Hotel Piroskában (min. 2 night)

2023.12.01 - 2023.12.22
Téli wellness akció Bükfürdőn a Hotel Piroskában (min. 2 éj) 26.280 Ft / fő / éj ártól / félpanzió / wellness használat / ingyenes WiFi /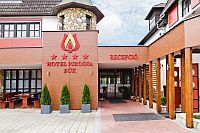 ✔️ Karácsonyi varázs a Piroska Hotelben (min. 2 night)

2023.12.23 - 2023.12.27
Karácsonyi wellness akció a Hotel Piroskában (min. 2 éj) 38.155 Ft / fő / éj ártól / félpanzió / ünnepi vacsorák / wellness használat / ingyenes wifi / ingyenes parkolás /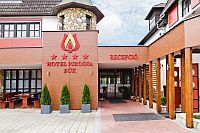 ✔️ Év eleji téli akció Bükfürdőn a Hotel Piroskában (min. 2 night)

2024.01.07 - 2024.02.29
Év eleji téli akció Bükfürdőn a Hotel Piroskában (min. 2 éj) 22.250 Ft / fő / éj ártól / félpanzió / wellness használat / ingyenes WiFi / ingyenes parkolás /