✔️ Park Inn Sárvár ****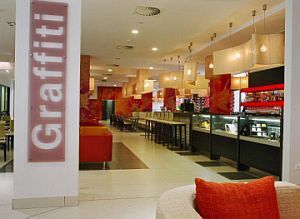 Park Inn by Radisson Sarvar Resort & Spa

The newly built four-star Park Inn by Radisson Sarvar Resort Spa Hotel is located in the picturesque town of Sarvar in the West Pannon region of Hungary, in the heart of the world-famous spa region Sarvar.
The small town can be reached in approx. 2 hours from Wien, Graz, Pozsony and in 3 hours from Budapest. Balaton Airport Sármellék is a 90-minute drive from the hotel.
The town of Sarvar is known for its healing thermal water springs.
Park Inn Sárvár Hotel is directly connected to Sarvar Spa and Wellness Complex, where 5 000 m² of water area, sauna-world, traditional and Far Eastern massages, fitness and beauty treatments are available for the guests. These services are matching the most recent western trends.
Sarvar Spa has its own health centre where visitors can take advantages of various health treatments.
The medicinal water contains high level of alkali-hydrogen carbonate. It is suitable for the treatments of chronic degenerative bone and articular deformations, non-acute phases of chronic inflammatory locomotor disorders, sport injuries and post-operative treatments.
Park Inn by Radisson Sarvar Hotel has 236 air conditioned rooms almost all with balcony with modern apartments and suites among them.
Services in double rooms (201 rooms):
Spacious room
Balcony
Satellite TV with radio
Hair dryer, bathrobe and bath towel
Telephone
High speed internet access
Air-conditioning
In-room safe
Hotel Park Inn Sarvar Services in the suites:
Bedroom and large living room
Sofa for two persons in the living room
Bathroom with shower
Separated toilet
Balcony
Satellite TV with radio in both rooms
Hair dryer, bathrobe and bath towel
Telephone
High speed internet access
Air-conditioning
In-room safe
The rooms offer idyllic views to the surrounding area.
Our modern and spacious La Caraffa Restaurant has a big sun terrace and serves Hungarian and international cuisine.
Lobby Lounge and Bar invites you to relax and enjoy the fabulous views of our serene surroundings. The bar menu includes a variety of snacks and desserts as well as refreshing cold and warm drinks.
Our hotel offers a bright and modern, multi-purpose meeting space. The 270 m² ballroom can accommodate 450 guests for a banquet and can be split into three smaller rooms. Four additional meeting rooms with an adjoining foyer are on the ground floor. The rooms have high-speed and wireless Internet access, colourful and modern design and natural daylight.
Sarvar is rich historical and architectural monuments.
The internationally known 18-hole golf course of Bük is located only 20 km from Sarvar.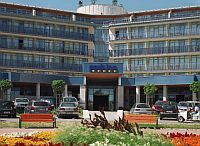 ✔️ Pünkösd a Park Inn Sárvár Hotelben (min. 3 night)

2023.05.26 - 2023.05.29
Pünkösd a Park Inn Sárvárban (min. 3 éj) 41.730 Ft / fő / éj ártól / all inclusive ellátás / belépő a Sárvári Gyógyfürdőbe / fürdőköpeny használat / ingyenes wifi /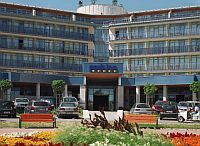 ✔️ Nyárelő a Park Inn Sárvárban (min. 2 night)

2023.05.29 - 2023.06.14
Nyárelő a Park Inn Sárvárban (min. 2 éj) 44.850 Ft / fő / éj ártól / all inclusive ellátás / belépő a Sárvári Gyógy- és Wellnessfürdőbe / fitneszterem használat / ingyenes wifi /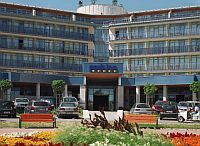 ✔️ All inclusive családi vakáció Sárváron (min. 2 night)

2023.06.15 - 2023.08.31
Családi vakáció a Park Inn Sárvárban (min. 2 éj) 46.800 Ft / fő / éj ártól / all inclusive ellátás / belépő a Sárvári Gyógy- és Wellnessfürdőbe / ingyenes wifi /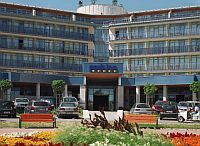 ✔️ Önfeledt ősz a Park Inn Sárvárban (min. 2 night)

2023.09.01 - 2023.10.20
Önfeledt ősz a Park Inn Sárvárban (min. 2 éj) 33.150 Ft / fő / éj ártól hétköznap / all inclusive ellátás / belépő a Sárvári Gyógy- és Wellnessfürdőbe / ingyenes wifi /