✔️ Szépia Bio Art Hotel Zsámbék ****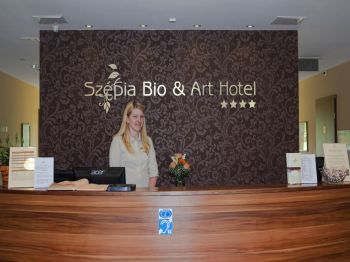 Szépia Bio & Art Hotel **** - Zsambek - wellness Hotel in Zsámbék

Szepia Bio & Art Hotel awaits its guests in Zsambek, only 30 km far from Budapest. The first wellness and conference hotel of Zsambek basin offers 38 spacious rooms, an adventure swimming pool, sauna, steam cabin, infrared cabin, massages, cosmetician and hairdresser. Inside the hotel building you can find 2 conference halls, a fitness room, 2 squash halls and 2 bowling lanes. In the external area of the complex there is a 12×16 m swimming pool, 4 tennis courts and a small-size football field (with lawn).
BIO ART:
For those who prefer healthy living and eating bio comfort rooms have been developed in Szépia Bio Art Hotel. These bio rooms are equipped with special furniture and beds. In terms of healthy eating the hotel restaurant offers a wide selection of bio food and drink for the guests.
The walls of the hotel are decorated with paintings and pieces of arts, mainly the works of the owner of the hotel. Szepia Bio Art Hotel befriends arts, so they gladly assure place for permanent and seasonal exhibitions in the hotel. In the hotel's shop the works of local fine artists can be bought.
ROOMS:
Szépia Bio Art Hotel offers 38 double rooms: there are 18 standard rooms (extra bed is not available), 14 standard plus rooms (with balcony), 4 bio comfort rooms, 1 superior room, and one room for the physically challenged guests. Every room is tailored to the modern design and comfort requirements, with simple, clear style and warm, friendly colours, taking into account the special features of the hotel.
The basic equipment of every room includes: air conditioning, soundproof windows, phone, broadband Internet access free of charge with laptop, LCD TV, minibar, safe, en-suite bathroom with shower, toiletries kit, hair dryer, bathrobe and towel.
A special feature of Szépia Bio Art Hotel is the bio comfort room. Every bio room has a balcony and these rooms are equipped with anti allergic furniture and Demko Feder beds.
NYÁRFÁS RESTAURANT:
In the familiar restaurant of Szépia Bio Art Hotel which has a capacity of 120 persons, guests can enjoy the local dishes and the specialities of the Mediterranean cuisine.
The restaurant has got a capacity of 130 persons, which is enlarged by the external terrace, with a further capacity of 60 persons.
Nyárfás Restaurant is an ideal place for different events, family gatherings, weddings and balls.
In summer we organize garden parties and evening grills on the terrace of the restaurant.
In the Bowling bar on the first floor of Szepia Bio Art Hotel the guests can have soft drinks, coffee, and alcoholic drinks.
CONFERENCES AND SPECIAL EVENTS:
Szepia Bio Art Hotel with its 6 conference rooms is an ideal place for conferences, trainings, banquets, receptions, balls, fashion-shows and product shows, weddings and other business or private events. Our conference halls are naturally lighted, air conditioned, they can be separated or opened together and provided with modern technical equipments. The equipments of our conference rooms include: TV, DVD player, projection system, projection screen, telephone, fax machine, microphones, broadband wireless internet.
SZEPIA BIO ART HOTEL WELLNESS:
In the hotel's wellness department guests can refresh their body and soul. In the wellness section of Szepia Bio Art Hotel there is a swimming pool, an experience pool, steam cabin, jacuzzi, infra-red cabin and Finnish sauna. In the beauty parlour of the hotel pampering treatments, different massages, hairdressers and a cosmetician await the guests.
SPORT AND FREETIME:
For those who like active holidays there are squash halls, a fitness room, bowling lanes, a small size football field with lawn, external swimming pool and 4 tennis courts. The hotel guests can have diving lessons in the external pool of the hotel or in the Palatinus Lake of Dorog. There is also possibility to make an internationally recognised dive course.
Szepia Bio Art Hotel pays special attention to healthy lifestyle, that is the reason why there is a possibility in the hotel to participate in motion therapies. The special health and motion therapies are supervised by manual and physical therapists.
Discover Zsámbék and spend a wellness weekend in Szepia Bio & Art Hotel with your family! The Zichy Castle, Turkish fountain, the only Lamp Museum in Hungary, the ruins of the temple and abbey in Zsambek are just a few examples from the numerous sights in Zsambek.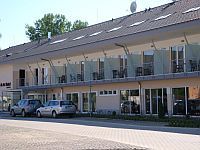 ✔️ Felfrissülés Zsámbékon (min. 2 night)

2023.09.01 - 2023.12.22
Felfrissülés Zsámbékon (min. 2 éj) 21.900 Ft / fő / éj ártól / üdvözlőital / félpanzió / wellness használat / masszázskupon / fürdőköpeny bekészítés / ingyenes WiFi / ingyenes parkolás /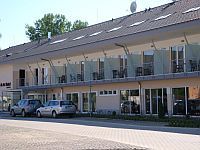 ✔️ Csupa csoki akciós wellness Zsámbékon (min. 2 night)

2023.09.01 - 2023.12.22
Csupa csoki akciós wellness Zsámbékon (min. 2 éj) 26.900 Ft / fő / éj ártól / félpanzió / wellness használat / csokoládé desszert bekészítés a szobában / 60 perc masszázs / ingyenes wifi / ingyenes parkolás /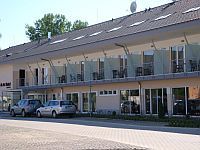 ✔️ Teljes panziós akciós wellness Zsámbékon (min. 2 night)

2023.09.01 - 2023.12.22
Teljes panziós akció a Szépia Bio Art Hotelben (min. 2 éj) 25.500 Ft / fő / éj ártól / félpanzió / menüebéd / wellness / ingyenes wifi / ingyenes parkolás /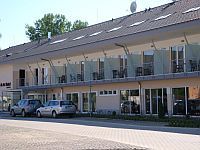 ✔️ Akciós pihentető hétköznapok Zsámbékon a Szépia Hotelben (min. 2 night)

2023.09.01 - 2023.12.22
Akciós pihentető hétköznapok Zsámbékon a Szépia Hotelben (min. 2 éj) 18.225 Ft / fő / éj ártól / félpanziós ellátás / wellness részleg használata / fürdőköpeny / ingyenes parkolás / ingyenes wifi /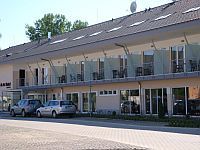 ✔️ Karácsonyi akció félpanzióval a Szépia Hotelben (min. 3 night)

2023.12.23 - 2023.12.27
Karácsonyi akció félpanzióval a Szépia Hotelben (min. 3 éj) 32.400 Ft / fő / éj ártól / félpanzió / wellness / karácsonyfa díszítés / masszázskupon / gyermekeknek rajzfilm matiné / ingyenes parkolás / ingyenes wifi /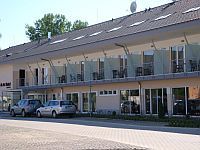 ✔️ Szilveszter a Szépia Bio Art Hotelben (min. 3 night)

2023.12.29 - 2024.01.02
Szilveszteri akció gálavacsorával a Szépia Bio Art Hotelben (min. 3 éj) 47.250 Ft / fő / éj ártól / félpanzió / gálavacsora / sztárfellépő / wellness használat / ingyenes parkolás / ingyenes wifi /