✔️ Hotel Nagyerdő Debrecen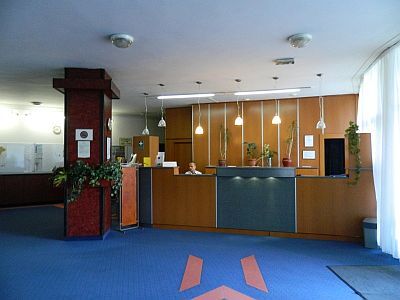 Hotel Nagyerdo - Thermal Hotel in Debrecen
Location
Debrecen is not only the second biggest town in Hungary but also the cultural, religious, economic and tourist centre of the territory east of the river Tisza. It is also referred to as the "Eastern Capital" of Hungary. Hotel Nagyerdõ is situated in the green heart of Nagyerdõ, the most beautiful part of the town in idyllic and peaceful surroundings.
Access
The town can be reached in ca. 3 hours from Budapest on highway M3 and main roads 33 and 4.
Guest room information
Rooms are refurbished. Number of rooms: 104 (101 double rooms, 3 single rooms). All rooms with a bathroom, balcony, TV, and telephone. Extra bed facility in 20 rooms.
Dining and entertainment
The air-conditioned restaurant provides buffet breakfast and main meal a'la carte as well as in a menu system. Among the dishes you can find both trendy, light ones and local specialities. In the summertime an exclusive Grill-garden in the inner park of the hotel awaits the guests with specialities prepared on charcoal as well as in cauldron. The Espresso bar and the beer terrace with its most fascinating view in Debrecen are also very popular among the guests.
Hotel Nagyerdő Debrecen - Guest services:
Telephone, telefax, photocopying, safe, C/C accepted, closed parking lot, taxi service, library, gift shops, a garden for resting. In the form of private praxis you can find a medical masseur in the building.
Sport and fitness
In the hotel indoor pool and sauna, at the resting porch of the hotel a clay tennis court awaits the guests combined with the shady rest assured by the huge trees of Nagyerdõ. Nearby: sport and fitness opportunities, sauna, solarium, bowling, riding, swimming, ball games.
Spa therapy section
For guests the fun bath of the hotel filled with thermal water (6x6 m) is free of charge. The hotel hosts an own medical wing, where the following services are available for guests: medical examinations, massage (Swedish, medical, refreshing), underwater jet massage, carbon dioxide bath, mud pack, electrotherapy (iontophoresis, diadynamic current, interference, TENS treatments, ultra wave treatments, magnetic therapy), inhalation.
Excursions and local sights
Debrecen Great Forest, Debrecen University, Déri Museum, Calvinist Church, Csokonai Theatre, Hortobágy (World Heritage), Hajdúszoboszló - Aquapark
További Wellness Szállodák Debrecenbe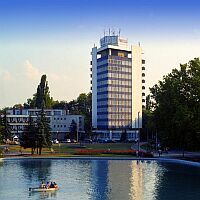 ✔️ Nyugdíjas akció Debrecenben (min. 4 night)

2023.09.01 - 2023.12.22
Nyugdíjas akció Debrecenben a Nagyerdő Hotelben (min. 4 éj) 18.500 Ft / fő / éj ártól / félpanziós ellátás / szálloda saját gyógyvizes medencéjének használata / ingyenes WIFI / ingyenes parkolás /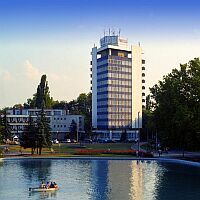 ✔️ Debreceni feltöltődés a Hotel Nagyerdőben (min. 4 night)

2023.09.01 - 2023.12.22
Debreceni feltöltődés a Hotel Nagyerdőben (min. 4 éj) 18.500 Ft / fő / éj ártól / félpanziós ellátás / szálloda saját gyógyvizes medencéjének használata / ingyenes WIFI / ingyenes parkolás /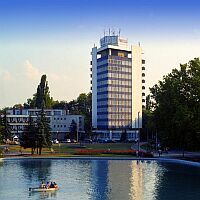 ✔️ Debreceni ízelítő a Hotel Nagyerdőben (min. 2 night)

2023.09.01 - 2023.12.22
Debreceni ízelítő a Hotel Nagyerdőben (min. 2 éj) 19.500 Ft / fő / éj ártól / félpanziós ellátás / szálloda saját gyógyvizes medencéjének használata / ingyenes WIFI / ingyenes parkolás /