✔️ Thermal Hotel Mosonmagyaróvár ***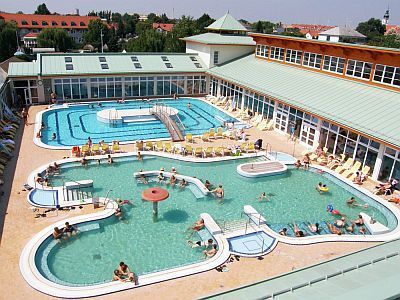 Thermal Hotel Mosonmagyarovar *** Superior
Mosonmagyarovar is situated in the northwest corner of Hungary, 15 km away from each of the Austrian and Slovakian borders. It is also called the town of rivers because it lies on the riverside of the Moson-Danube and it is not only crossed by the Lajta, but also by little millbranches. The historical downtown still guards the memory of the medieval castle and city. Protected baroque buildings, narrow streets, moody wooden bridges are colouring the panorama of Mosonmagyarovar.
The so called Szigetköz (which is a big island between the Danube and Moson-Danube rivers situated around us) is a great place to go for some water sports, just like canoeing, kayaking or swimming. The area has a great opportunity for horse-riders and bicycle tourists as well.
Above all things the town's most valuable treasure is its thermal water, which is one of the five best medical thermal waters in Europe. Guests longing for recovery and relaxation as well as families can enjoy the services of Mosonmagyarovar Spa and Thermal Bath all-year-round: indoor and outdoor swimming pools, outdoor thermal pool, outdoor- and indoor medicinal pool with jacuzzi, sitting pool, sauna world (dry and wet sauna, steam cabin, dipping pool). The thermal water of the bath is suitable to the easement of locomotor, respiratory and in the form of drinking cure of stomach- and intestinal pains.

Our 3-star superior Thermal Hotel Mosonmagyaróvár was built in 1999, is situated next to the down town in the area of the thermal bath. All the 46 double rooms and 1 apartment (for disabled usage too) are equipped with a newly renovated bathroom, hair dryer, television, phone, minibar and of course with a safe.
Our Thermal Restaurant with winter garden seats 120 guests, where you can enjoy all our international, vegetarian, diet and Hungarian specialities. Every Friday culinary buffet dinner with live music is available.
For breakfast we offer a continental buffet style. The guest who has asked for half board will be asked to choose one of our daily menus that are every day two normal menus and a Vegetarian menu.
The health hotel has a medical surgery, a treatment department and a dental surgery, offering health and experience at the same place. The treatment departments can be found in the basement of the hotel.
Wellness-beauty section in Thermal Hotel:
In the area of the hotel many beauty salons can be found helping us to offer beauty packages for our guests as well.
Among these packages you can find:
Thermal Hotel Mosonmagyarovar massage:
head massage in Indian style
peeling-massage using sea salt or peach cream
stress solving, detoxicating lymph-massage
honey-massage
foot-massage
ear-candle
pedicure, manicure
face and body cosmetic
slim-winding
hairdressing
Our Mediterranean wellness room was opened in 2002, where our guests can refresh and enjoy the use of our whirlpool, Finnish and infrasauna and infra-lamps!