✔️ Hotel Narád Park Mátraszentimre ****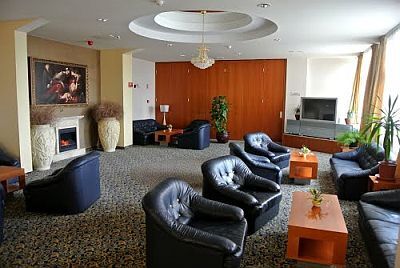 Hotel Narad Park Matraszentimre **** ~ Child friendly hotel - Wellness Hotel Narad Matraszentimre
The 4-star Hotel Narad is situated at 810 m above sea level in Matra Mountains, in woody environment, 50 m far from the centre of Mátraszentimre. The settlement is about 25 km from the famous spa, Parádfürdő and 60 km from Eger and Egerszalók; can be easily reached by car on the main road nr. 24. Hotel Narád Park is the only 4-star hotel in Mátraszentimre offering high standards of services.
Hotel Narád Park - Guest rooms:
Hotel Narad offers 41 double rooms and 6 apartments. All rooms are non smoking and have private bathroom with shower, hair dryer, colour TV, radio, telephone and minibar. Non-smoking rooms, connected rooms and rooms for families are also available. Extra beds can be required.
The apartments consist of 2 two-bedded rooms, a bathroom and a vestibule. The rooms have a panoramic view of 50 km.
Restaurant:
Hotel Narad's restaurant has a capacity of 120 persons. It is open from 10:00 until 22:00. The restaurant offers meals from wilds, typical Hungarian and Slovak traditional meals. Light, reform and vegetarian meals are also available. The restaurant is an ideal venue for family events, wedding parties and other programmes and meetings.
Café - Drink bar:
The drink bar offers flavoured coffee specialities, the wide variety of 22 wine-districts and special cocktails from 7:00 until 22:00.
Beer-garden:
The beer garden - from spring until autumn - is an excellent place for outdoor barbecue-, grill parties and standing receptions.
Child friendly hotel:
Wellness Hotel Narad awaits the families with children's rooms. These rooms are equipped with children's furniture (baby bed, crib, child's bed, changing table …) and child friendly services (baby bath, glasses for children ...) await the guests. In the restaurant high chairs, table sets decorated with fantasy figures and bibs provide for the children's untroubled feeding. In the play-room toys and games are available for the children.
Wellness:
Wellness Hotel Narád Park Matraszentimre offers a 150 m2 fitness room located on the ground-floor. Cardio-fitness machines, solarium, sauna, whirlpool and medical massage are at the guests' disposal.
Matraszentimre sports facilities:
In the summer: outdoor tennis court, football and basket ball court with sport equipments rental. Rent-a-bike.
In the winter: skiing on the hotel's own ski slope, ski-rental, ski-lift, sledging and ski-running.
Matraszentimre Excursions:
From the park of the hotel a path leads directly to Narád stream. The many paths through the woods provide an exhilarating family walk. You can admire the panorama of the Kékes and Galyatető, and the peaks of Tátra from the Vöröskő - look out tower.
One-day excursions: Hollókő (45 km), Eger (60 km), Parád (20 km) and Gyöngyös.
Wine tasting: Farkasmályi Pincesor, Mátraaljai Borok Háza in Gyöngyös.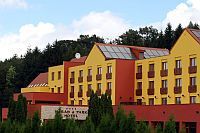 ✔️ Karácsonyi wellness akció a Mátrában (min. 3 night)

2023.12.23 - 2023.12.27
Karácsonyi wellness akció a Mátrában (min. 3 éj) 39.700 Ft / fő / éj ártól / félpanzió / wellness részleg használat / ingyenes parkolás / ingyenes wifi /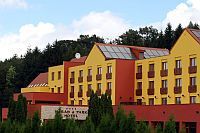 ✔️ Szilveszteri akció a Narád Park Hotelben (min. 3 night)

2023.12.29 - 2024.01.02
Szilveszteri akció a Narád Park Hotelben (min. 3 éj) 60.700 Ft / fő / éj ártól / félpanzió / szilveszteri gálavacsora / hajnalig tartó zenés buli / wellness használat / fürdőköntös bekészítés / ingyenes parkolás / ingyenes WiFi /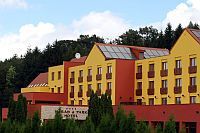 ✔️ Téli hétköznapi wellness akció a Narád Park Hotelben (min. 2 night)

2023.12.01 - 2024.02.29
Téli hétköznapi wellness akció a Narád Park Hotelben (min. 2 éj) 27.450 Ft / fő / éj ártól / félpanzió / wellness használat / fürdőköntös bekészítés / ingyenes parkolás / ingyenes WiFi /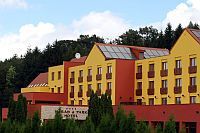 ✔️ Téli hétvégi wellness akció a Narád Park Hotelben (min. 2 night)

2023.12.01 - 2024.02.29
Téli hétvégi wellness akció a Narád Park Hotelben (min. 2 éj) 31.950 Ft / fő / éj ártól / félpanzió / wellness használat / fürdőköntös bekészítés / ingyenes parkolás / ingyenes WiFi /