✔️ Rubin Wellness Hotel Budapest ****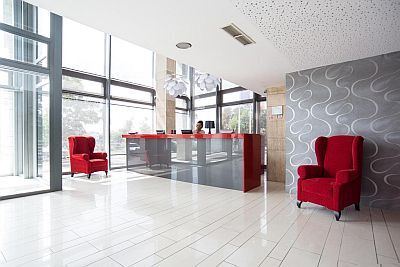 Hotel Rubin Budapest **** - Affordable Rubin Wellness & Conference Hotel Budapest
The four-star Rubin Wellness & Conference Hotel **** is located on the Buda side of Budapest, at the foot of Sashegy, beside the inlet section of the motorways M1 and M7, 15 minutes from the centre of the city with good public transport connections.
Our own inner garden 1000 m2 in area, offers a quiet, friendly environment for those who desire to rest. If you choose our hotel, you do not have to leave your pet at home either, they are welcome at our hotel as guests.
Rubin Wellness Hotel 79 rooms await our guests: single, double, triple rooms, suites, two-storey apartments and apartments with kitchen. In addition to standard rooms, non-smoking rooms and business rooms are also available. Each room is equipped with colour TV, radio, phone, minibar and WIFI. Our hotel rooms are air-conditioned.
Standard rooms (renovated): 24 m2
Equipment: cable TV, telephone, radio, minibar, hair dryer, in-room safety deposit box, make-up mirror, WIFI Internet, air conditioning
Business rooms (renovated): 38 m2
Equipment: cable TV, telephone, radio, minibar, hair dryer, in-room safety deposit box, make-up mirror, WIFI Internet, air conditioning, bathrobe, slippers, coffee and tea making items, water heater, sofa (for 1 adult or 2 children)
The equipped, spacious apartments 70-80 m² in area suitable for accommodating up to 4 persons are ideal for longer stays. The apartments consist of two rooms, a bedroom and a living room, a bathroom and a kitchen. The kitchen is equipped with electric cooker, sink, refrigerator and microwave oven. On request, we provide cutlery, pots, dishes and plates and other kitchen utensils.
The services of the hotel are made complete by the restaurant, lobby bar, grill terrace and snack bar.
Gallery Restaurant:
Elegant restaurant with international and Hungarian cuisine to serve specialities and sweets and a wide choice of quality wines produced by famous Hungarian winegrowers.
Capacity: 60 person
Opening hours: 12:00 - 22:00
Grill terrace:
It is an intimate shadowed terrace attached to the restaurant in a beautiful environment next to the garden of the hotel. It offers pastries, refreshments, spirits, draft beer, and grilled meals made in display kitchen .
Capacity: 40 persons
Opening hours: 18:00 - 23:00 (in summer)
Rubin Wellness Hotel Budapest Lobby bar:
In the new reception building opened an intimate Lobby bar. Its offer contains cocktails, refreshments, coffee specialities, sandwiches and sweets. The bar opens into a terrace in the inner garden.
Capacity: 30 persons
Opening hours: 10:00 - 23:00
Rubin Snack Bar:
Sarokház Snack Bar offers cold plates, pastry, sandwiches, salads, soups, main meals and drinks for the guests.
Opening hours: Mon- Fri 7:00-16:00; Sat-Sun 9:00-16:00
At the Business Corner access to PC, Internet, photocopy, phone and fax is provided.
In our special rooms and halls training programs, conferences, product presentations, presentation receptions, balls, wedding parties including 15-300 persons can be held. In addition to providing the technical background, we undertake to provide catering for the events from coffee break through three-course meals to banquets.
From 7 September 2006 seven new panoramic conference halls are available for our guests.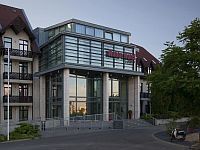 ✔️ Adventi wellness hétvégék Budapesten (min. 2 night)

2023.12.01 - 2023.12.24
Adventi wellness hétvégék a Rubin Hotelben (min. 2 éj) 67 EUR / fő / éj ártól / bőséges büféreggeli / wellness központ használata / fitness terem / ingyenes WiFi /