Budapest
Danubius Health Spa Resort Helia Budapest ****- wellness & thermal Hotel Helia Budapest
Location:
The hotel is situated on the left-bank side of the capital, opposite to Margaret Island, close to city centre. Several cultural and tourist attractions are within a few minute of the hotel. Thanks to its location the guests can enjoy the picturesque view of River Danube, Margaret Island and Buda Hills.
Hotel Helia Distances:
International Airport - 26 km
City centre - 3 km
Eastern (Keleti) Railway Station - 7 km
Thermal Hotel Helia guest rooms:
The hotel - last renovated in 2007 - is fully air-conditioned and soundproofed, offers 262 rooms: 249 double rooms, 8 suites (4 with private sauna, 4 business) and 5 rooms for handicapped.
All rooms are equipped with colour TV, free satellite channels, movie channel, radio, direct dial telephone, minibar and WiFi Internet access. In the suites ISDN-service is available.
Each room is non smoking.
There are connecting rooms and rooms with balcony.
Health Spa Resort Helia dining and entertainment:
Restaurant Jupiter - offers a wide choice of Hungarian and international dishes. Vegetarian, dietetic meals. Á la carte or menu orders are available. Live music at noon and in the evening. Room Service.
Coffee Shop - in the lobby and at the pool, open: 8.00-24.00. Offers famous Hungarian pastries, salads and snacks.
Local sights:
Heroes' Square, Museum of Fine Arts, City Park, Budapest Zoo, St. Stephen's Basilica, Margaret Island
Other hotels in Budapest operated by the management:
Danubius Health Spa Resort Helia Budapest 4 star thermal and conference hotel Budapest. Spa thermal and wellness Hotel Helia Budapest, wellness weeekend in Budapest Hotel Helia.
Danubius Health Spa Resort Margitsziget Budapest Thermal hotel Margitsziget Budapest. Margaret Island Budapest. 4 star thermal and spa and wellness hotel Budapest, Wellness weekend Budapest.
Grand Hotel Margitsziget Budapest 4 star elegant and romantic hotel Budapest. Margaret Island Grand hotel.
Danubius Hotel Gellert Budapest 4 star Thermal hotel and wellness hotel. Wellness weekend Budapest.
Danubius Hotel Astoria Budapest 4 star Danubius hotel in the centre of Budapest
Danubius Hotel Flamenco Budapest 4 star city hotel in Budapest
Grand Hotel Hungaria City Center Budapest **** Hungary's largest hotel in the centre of Budapest
Hotel Budapest **** - Hotel in the centre of Budapest in Buda close to Moszkva sqaure - Hotel Budapest
Danubius Hotel Arena Budapest **** - conference hotel with wellness section close to Keleti Railway Station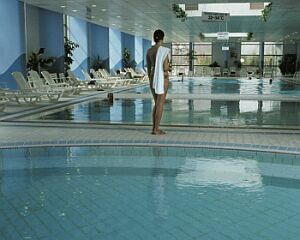 « Back to Hotel description
Pictures
Danubius Health Spa Resort Hotel Helia - Thermal Hotel Helia Budapest: 4-star thermal & conference hotel on the banks of the Danube in Budapest. Offers a wide range of diagnostic and therapeutic services and perfect facilities for entertaining. Banquet and conference services for intimate meetings and major functions. Budapest Thermal hotels 4 star hotels online booking.
If you click on the thumbnails below, you can see the pictures full sized
« Back to Hotel description
Price list
The prices mentioned below are indicative and are subject to change by the hotel management. Your reservation will be confirmed at the current cheapest rate.
Room rates include: use of the hotel's spa facilities - swimming pool, sauna, thermal baths, steam bath, whirlpool, Danubius Premier Fitness room, local tax (4% of room rate) and VAT.
Health Spa Resort Helia offers free WiFi Internet connection in all public areas and guest rooms.
Buffet breakfast: EUR 12.-/person
Half board: EUR 24.-/person
Extra bed: EUR 25.-/night (in superior rooms)
Child policy:
Children under 12 sharing the room with adults are accommodated free of charge including breakfast.
One adult and one or two children under 12 sharing a room should pay a single ocupancy price.
All major credit cards accepted.
Parking: EUR 10.-/day
Cancellation: You can change or cancel your reservation with no penalty until 4 PM (hotel local time) on the date of arrival. In case of late cancellation or no show the first night of the accommodation cost will be charged automatically by the hotel
Online Reservation
Order with immediate online confirmation.